Zabara Alexander from Moscow, Russia – New Year in El Corte
Going to a milonga for the first time in Buenos Aires? There are a lot of códigos (hidden rules) in a milonga porteña that you'd need to know before the visit. We have compiled the following tips and essential phrases that you would need for a successful first milonga. Also watch our Youtube video to learn the pronunciation of the essential Spanish phrases!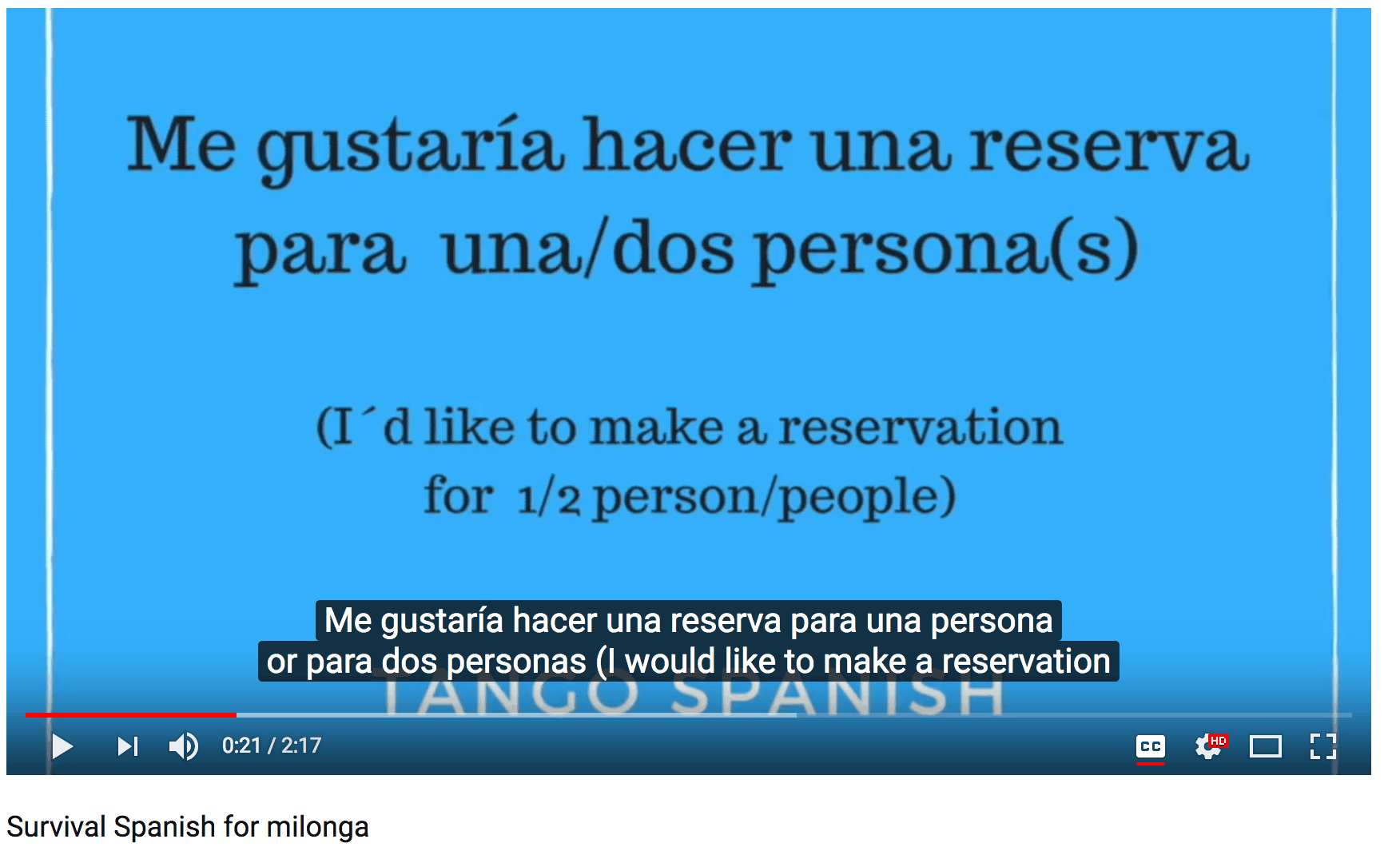 On Hoy Milonga website you can find a listing of milongas and practicas in Buenos Aires, with the information of addresses and hours. You can also check if there's a class before the milonga. For some milongas their entrance fees would include  the class fee, so you may want to take advantage of it to learn some tango steps as well as to meet some new friends. There's also a Hoy Milonga App for download on smartphones.
For some popular milongas (such as Cachirulo) it would be a good idea to make a reservation beforehand, so that you can be guaranteed a better seat. Sometimes milongas can get crowded, if you drop-in without a reservation, you may risk being offered a seat at the back or corner, and it  will be hard for you to perform cabeceo (the use of eye contact for dance invitation).
Reservation, ticketing and seating
To make a reservation you'd need to call the organizer and say:
Me gustaría hacer una reserva para una persona o dos personas.
I would like to make a reservation for 1 person or 2 people.
Then you will need to tell them your name and also surname:
Me llamo Ana (y mi apellido es Peréz)
My name is Ana, (and my surname is Peréz).
At the venue you'd need to purchase your ticket from the reception. You can say to the receptionist:
Quiero una entrada/ dos entradas, por favor.
I would like to have 1/ 2 tickets, please.
To ask for the price, say:
¿Cuánto cuesta la entrada?
How much is the ticket?
You may want to keep the ticket as sometimes in the middle of a milonga there would be a lucky draw (sorteo).
After you have purchased your ticket, you'd need to wait for the host to sit you. Do not just go and grab your seat! When the host comes to you, you may greet him/her by giving a kiss on his/her right cheek. Then he/she will lead you to your seat.
If you don't like the seat being offered, you may request politely for a change:
¿Puedo tomar otra silla/mesa?
Can I take another seat/table?
In traditional milongas there would be separate seatings for men, women and couples. People who sit at the couple area would (usually) dance with their partner only.
In the milonga
In Buenos Aires people would usually change their shoes in the washroom. If you are new to the milonga and want to know where the washroom is, you may ask:
¿Dónde puedo cambiarme?
Where can I change my clothes?
Or
¿Dónde está el baño?
Where is the washroom?
In milonga in Buenos Aires, people use cabeceo, the eye contact, to invite people for dance. At the beginning of a tanda, a man would fix the gaze on the lady he wants to invite. If the lady is interested she would maintain eye contact with the man. The man may slightly tilt his head or nod as a gesture of invitation. The lady would nod her head for confirmation. Then the man can walk over to the lady's seat and escort her to the dance floor. If the lady is not interested, she may simply look away.
Sometimes if the light is too dim it would be hard to perform cabeceo, then you may invite a lady by saying:
¿Bailás?: You dance?
But still one should use cabeceo as much as possible, as it is a custom to avoid embarrassment of both parties if one doesn't want to dance with the other.
If you have accepted the invitation you should dance with your partner for the whole tanda (a set of 4 tangos/3 vals/3 milongas).
After you have finished the tanda with your partner, remember to thanks your partner by saying:
Gracias: Thank you
or
Un placer :A pleasure
But be careful not to say "gracias" too early! If you say "gracias" in the middle of the tanda, your partner would take that as you don't want to finish the tanda with him/her.
After the tanda the man should escort the lady back to her seat.
Be aware of the last tanda! The last tanda, especially the song "La cumparsita" is reserved for lovers and couples. If you accept an invitation from a local, you may be sending him a wrong signal that you would want to go for a "coffee" with him after the milonga.

Tango Spanish: Flirting and coffee in milonga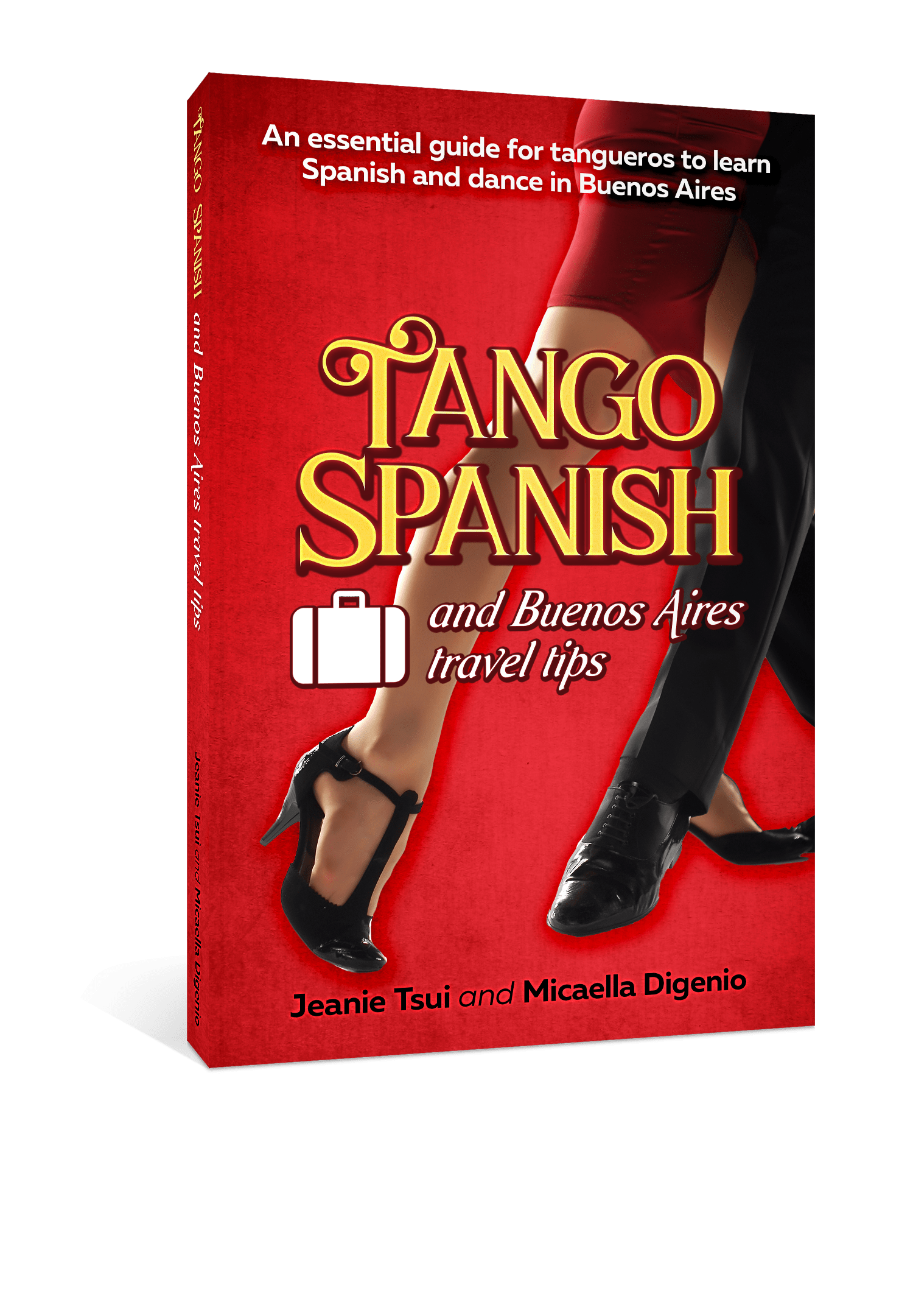 Going to Buenos Aires soon and need advice for planning your trip? Check out our book "Tango Spanish and Buenos Aires Travel Tips"! Also book a class with our Tango Spanish teachers, who are tangueras living in Buenos Aires, to learn more Spanish and insider tips!